---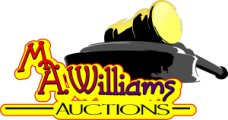 M.A Williams Auctions / Auctions for Business & Industry 
Affiliate Since:  2010 
---
Michelle Williams was unemployed and needed a career change. She went to school to become an auctioneer, but didn't know how to get started.
Then K-BID changed Michelle's life.
After living overseas for many years, Michelle Williams came back to the United States just as a recession hit the country. Unemployed and well into her career, Michelle realized she didn't have many prospects. So she took an aptitude test and the career identified for her was an auctioneer – something that had never entered Michelle's mind. She took a risk, went to school in Mankato, Minn., and planned to be a live auctioneer.
Her first planned auction was a big one and she didn't know how to approach the challenge.
Her instructor referred her to Joe Soderholm – the late founder of K-BID.
The challenge:
Help someone who is new to the field build and grow a successful auction affiliate program using the K-BID platform.
How did K-BID help?
"Joe helped me get through the first auction. He taught me how to sell my business and even rented a building to me by the square foot," Michelle said. "He became a friend, teacher and mentor."
Once Michelle completed her first K-BID auction, she believed she'd go on to pursue live auctioneering. But after her first K-BID auction, her phone started ringing with new clients and she never ended up needing to live auction anything.
Today, Michelle is exclusively an online auctioneer, owns a 4,000 square foot building and has many employees whom she hopes will take over her business when she's ready to retire.
"Joe was so instrumental in helping me learn business, his picture still hangs in my showroom," said Michelle. "No one had ever taken the time to teach or train me -- that was a big deal."
K-BID continues to help Michelle grow her business.
- K-BID sends Michelle leads so she does not need to do many outside sales calls.
- K-BID provides technical, advertising and sales assistance.
- K-BID has a well-established reputation and has developed tried and true business methods and a reliable online platform.
K-BID makes our affiliates happy.
"I can't imagine my business without them and I wouldn't care to be in business without them. If people look online at my auctions and see what I do – well, I give most of the credit to K-BID because they helped me develop this business into what it is today. They care, they really care."
 
- Michelle Williams, M.A. Williams Auctions
---